THE BRIGHTON
The two bedroom Brighton Apartment has everything that you need. A full kitchen with a stove and dishwasher, if you'd like to continue to cook. A washer and dryer, in your unit. This layout offers nearly 1000 sq ft. of  living space, including a master bathroom equipped with a walk-in shower and grab bars as well as a guest bathroom with a tub for you and your guests.
TWO BEDROOMS
Refrigerator, dishwasher, stove, washer and dryer

Master bathroom with walk-in shower with grab bars

Guest bathroom with bathtub/shower with grab bars

Three daily meals provided

All utilities including soft water

Basic cable and internet provided by ImOn

Phone service, including local and long-distance

Emergency response systems in the bedroom and bathroom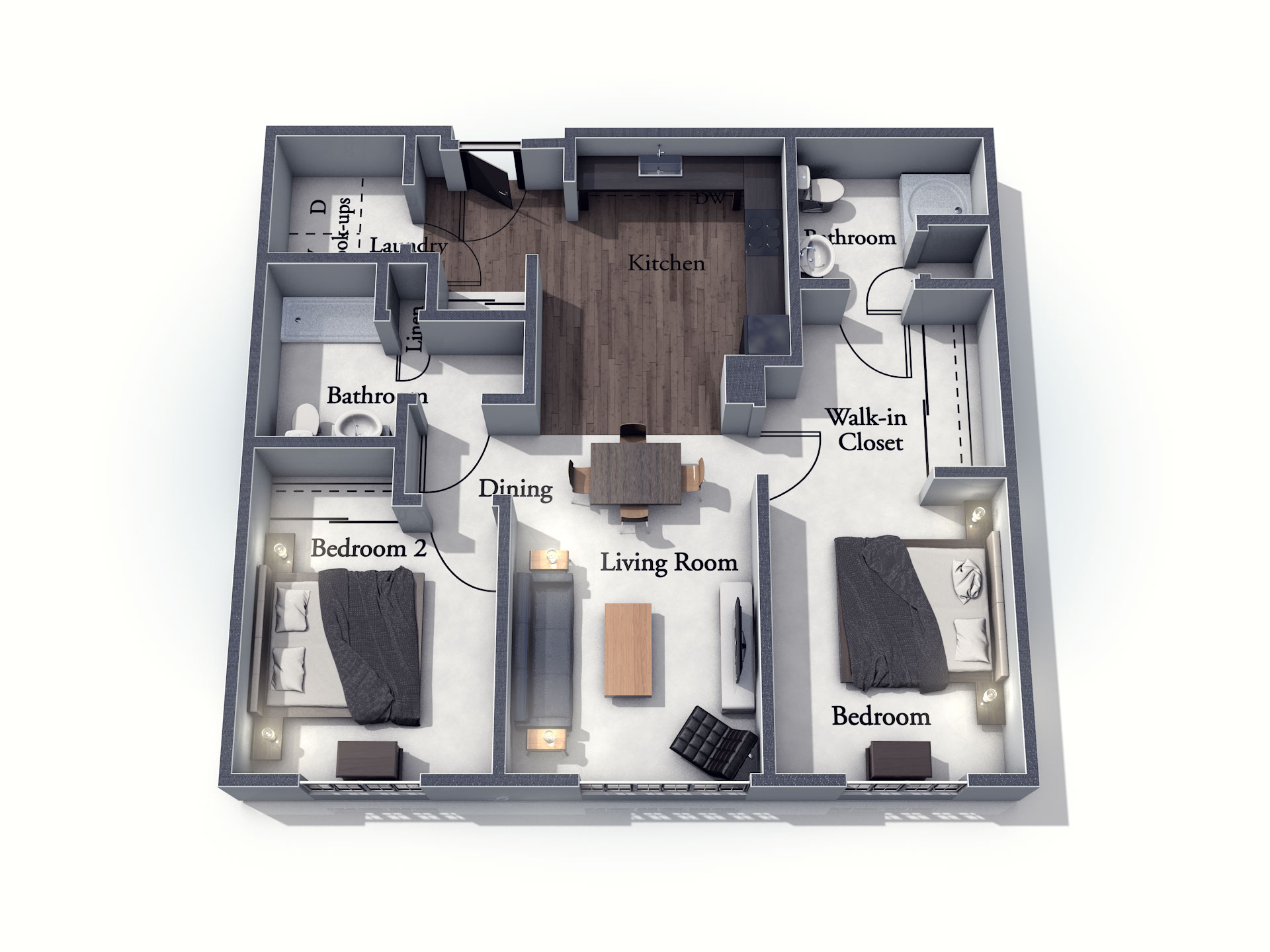 Frequently Asked Questions

"We know this process is a journey for you and your family, so here are a few of the top questions and answers we receive to help you all along the way."
Summit Pointe does offer a very cozy 12 room Memory Care that's designed for the needs of those with Alzheimer's, dementia, and other forms of memory impairment. Our Memory Care tenants will continue to live rich, fulfilling, and dignified lives with daily interaction and activities designed around them.
Summit Pointe is a 100% private pay community. A great resource to find out more on the Elderly Waiver Program is Heritage Area Agency on Aging
1-800-332-5934
or
www.heritageaaa.org
.
If you have a long term care insurance policy and you meet the requirements of your policy, it may cover your assistance provided by Summit Pointe, please check with your insurance carrier to see if your policy applies to certified assisted living programs and what the requirements are. If you are a veteran or a window of a veteran who served in the war, you may be eligible for a monetary program called Aid and Attendance. We recommend you reach out to Linn County Veterans Affairs at
1-800-838-4692
or visit their website at
www.va.ia.gov
for more information.
Yes! We tailor the assistance needed to the individual so you have the choice of any apartment and one tenant can have services while the other does not. No matter what need arises, you do not need to move apartments just because you need assistance.